MARINE LIGHTS RAILROAD LIGHTS VEHICLE LIGHTS ARROWBOARDS HANDLIGHTS BARRICADES
MULTI-LEVEL ARROWBOARDS
These Multi-Level Arrowboards ensure workers safety by allowing the operator to raise
the arrowboard and illuminate it from the safety of the vehicle cab. In its down position,
it hides the unit away from costly overpasses, trees, or other low clearance obstacles.
Available with new super efficient 5 watt sealed beam lamps, the Multi-Level
Arrowboards can be left on all day without leaving the vehicles engine running --
which is a key cost consideration when compared to standard 18 watt arrow board lamps.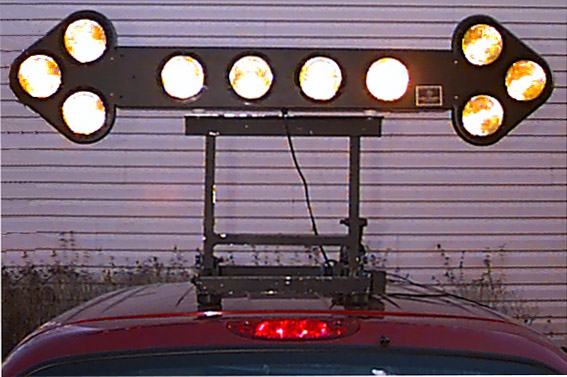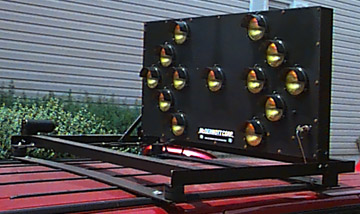 LWAB-ML AB-2X4-ML
Clearance = 9" Down Clearance = 7" Down
29" Up 32" Up
Four Function (Left, Right, & Both Arrow, Travel Position)
Heavy Duty Aluminum Channels
Extremely Low Drain
Heavy Duty Weatherproof Motor Assembly
Choice of either 5 watt halogen sealed beam lamps or L.E.D. Lamps
Lamp Life on L.E.D.'s = 40,000 hours
Lamp Life on 5 watt halogen lamps = 4000 hours (flashing)
ORDERING INFORMATION:
MODEL # LWAB-ML-H5W Lite-Weight Multi-Level Arrowboard with 5 Watt Sealed
Beam Lamps
MODEL # LWAB-ML-LED Lite-Weight Multi-Level Arrowboard with 5 Watt Sealed
Beam Lamps
MODEL # AB-2X4-ML-SINGLE Single Direction 2 x 4 Multi-Level Arrowboard with 5 Watt
Sealed Beam Lamps
MODEL # AB-2X4-ML-DOUBLE Double Direction 2 x 4 Multi-Level Arrowboard with 5 Watt
Sealed Beam Lamps
MODEL # AB-2X4-ML-SINGLE-LED Single Direction 2 x 4 Multi-Level Arrowboard with L.E.D's
MODEL # AB-2X4-ML-DOUBLE-LED Double Direction 2 x 4 Multi-Level Arrowboard with L.E.D's
Julian A McDermott Corporation
(800) 842-5708