MARINE LIGHTS RAILROAD LIGHTS VEHICLE LIGHTS ARROWBOARDS HANDLIGHTS BARRICADES
LED BLUE LIGHTS
SERIES: RRTRPD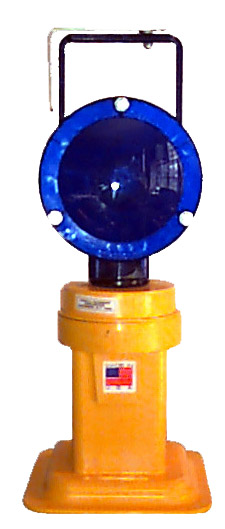 Stop wasting your money, time and energy on excessive battery usage.
We can save you up to 70% on yourbattery budget for marker lights!!
This is our new 5 inch LED Blue Marker Light with a ladder hook.
This unit will operate over 10 weeks on 12 hour nights,
and on one standard 6 volt NEDA 908 spring battery.
All plastics are LexanŽ and all contacts are brass.
Unbreakable LexanŽ Lens Unbreakable LexanŽ Case Blue L.E.D.'s 60 Flasher Per Minute
High Intensity Lamp Guarantee for 5 years Weight: 3 lbs w/battery Dimensions: 5 3/4 x 15" x 5 3/4
ORDERING INFORMATION: (Lights can be ordered will all or none of the below suffixes)
MODEL # RRTRP-
# RRTSF-
SUFFIXES: RRTSF - All around 266 Lens
RRTRP - Railroad type round projector (5" double direction with reflector)
LED - L.E.D. (Light Emitting Diode) Type
.08 - Ampere Drain
SC - Shoulder Carry Strap
HH - Aluminum Swivel out hook for hanging lights on ladders or flag sockets
SQ - Square base on bottom for more stability
G - Color Green
R - Color Red
A - Color Amber
B - Color Blue
60 - Nominal Flashrate
PE - Solar switch will turn unit off in sunlight
LV - Low voltage indicator - small L.E.D. on top of case warns when batteries are low
Julian A McDermott Corporation
(800) 842-5708