MARINE LIGHTS RAILROAD LIGHTS VEHICLE LIGHTS ARROWBOARDS HANDLIGHTS BARRICADES
LED BLUE LIGHTS
SERIES: RRLED178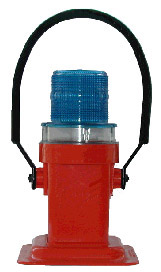 These flashing blue LED lights have a 2 1/2" lens and bail handle.
It is equipped with solar switch (which turns light on in the nighttime
or overcast conditions).
Case resists damage, providing years of serviceeven through
severe climate conditions.
Lights will operate 5 weeks on one 6 volt lantern battery.
Our LED blue lights will give you the same intensity that you presently have.
We guarantee the lamps for the life of the Blue Light
ORDERING INFORMATION:
MODEL # RRLED178-
SUFFIXES: SQ - Square base on bottom for more stability
PE - Solar switch will turn unit off in sunlight
BH - Bail Handle
LVC - Low Voltage Indicator
Julian A McDermott Corporation
(800) 842-5708